Bike trailers are great if you need to take your dog, child, or cargo with you on your next cycling escapade. They keep the weight off your back so you can have a more comfortable and enjoyable ride.
But there are a lot of bike trailers in the market, how will I know which one to get?
Great question! Here is everything you need to know about bike trailers.
What are the different types of bike trailers?
There are three types of bike trailers in the market. These are bike cargo trailers, child bike trailers, and bike trailers for dogs. Let's discuss each type in more detail below:
Bike Cargo Trailers
Bike cargo trailers are designed for hauling bulky or heavy items. The weight of your cargo is distributed on the trailer's wheels making it feel lighter compared to carry your stuff on your back. Modern bike cargo trailers can be quickly converted into wheeled pushcarts which you can use for groceries.
There are two variations of bike cargo trailers:
Two-wheel bike cargo trailers – have two wheels that keep your cargo balanced throughout the ride. This also makes loading and unloading easy and quick. The only downside of the two-wheel bike cargo trailers is their wide frame which will require more room to turn.  
Single-wheel bike cargo trailers – perfect for narrow tracks. Single-wheel trailers roll better than their two-wheel counterpart. They are more nimble and easier to drag. The disadvantage is that loading and unloading can be challenging.  
If you are planning to ride over rough trails, consider picking a bike cargo trailer with suspensions to prevent your cargo from bouncing all over the place. The suspension also helps keep your trailer stable and easy to maneuver.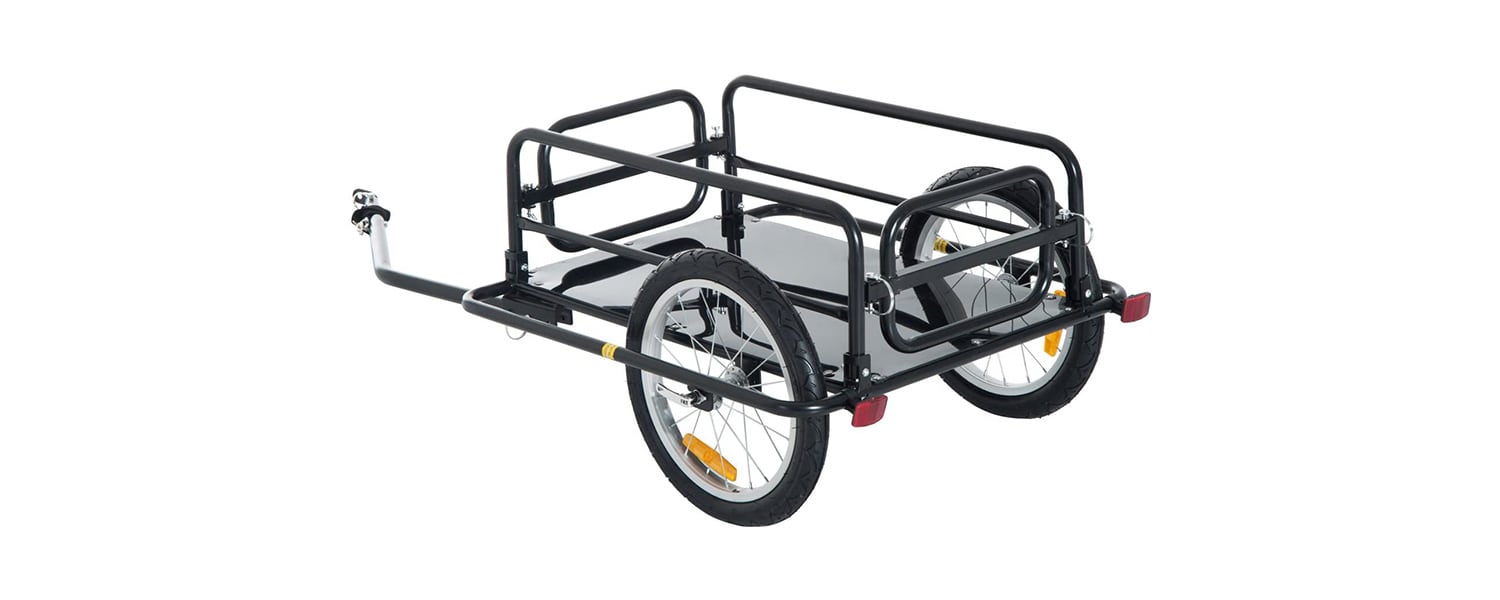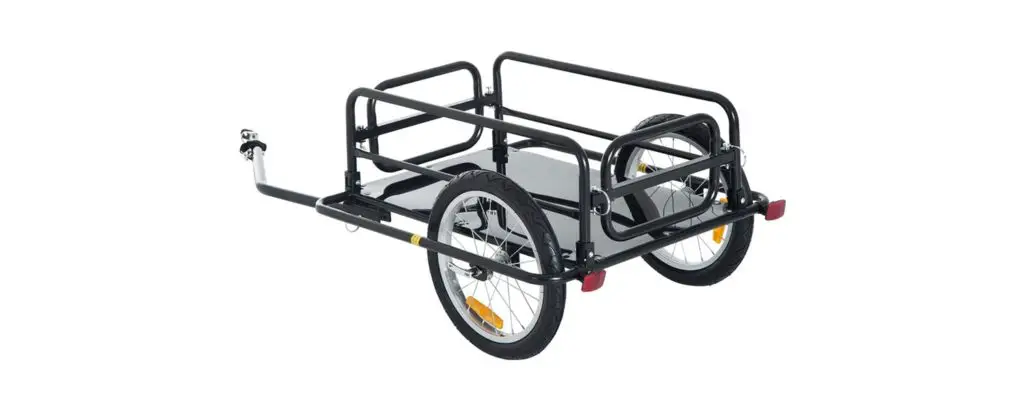 Child Bike Trailers
Child bike trailers are usually attached to the read hub of your bike. They are great for allowing your kid to relax and enjoy the view as you tag them along. Most modern child bike trailers can be converted into a stroller or jogger which is very handy when you are in the park.
Most child bike trailers come with a fabric top while the sides and bottom are usually crafted from strong aluminum. You can typically see a zip door that has a mesh window for venting. This window may also have a second layer made of plastic which you can use to keep the insects and elements away.
Compared to child bike seats, trailers offer more protection as they often have roll cages to protect your kid from a crash. Child bike trailers also don't tend to tip over when your bike falls.
When buying a child bike trailer, look for these features:
Seat Quality – a modern trailer should have a seat that has a harness system for each passenger (most child trailers can accommodate two). This should look like a car child seat. If you have the budget, you can also buy one that has a reclining feature which is great for napping.  
Lots of Storage Options – expect to carry a log of things with you if you are going to take your child on a biking adventure. So, pick a bike trailer that has space for snacks, water, games, toy, towels, clothes, diapers, bike tools, and other essentials.  
Seating Capacity – most bike trailers today can seat up to two passengers. Picking this model over single-seat ones can save you a lot of cash especially if you have two toddlers.
Suspension – the last thing you want is your kid bouncing around rough terrain. Pick a bike trailer that has suspension so you and your kid can keep enjoying the road.
Parking Brake – most bike trailers for kids usually come with a parking brake to keep it from rolling away. Be careful though because most cheap models have a brake system that looks like a bar that presses on one of the tires. This is not super secure. Your best option is a parking brake system that locks the hub. You can usually find this in more expensive models.  
Sunshades and Windows – the best child bike trailers are the ones that offer great cross ventilation and sun protection without obstructing your child's view. Pick one that has mesh side windows and retractable sun shades — ideally, go for the brands that feature UV-rated fabric or plastic.
Remember, when buying child bike trailers, the safety and comfort of your kid must your first priority. Go for the ones that offer the best comfort and safety as your budget allows.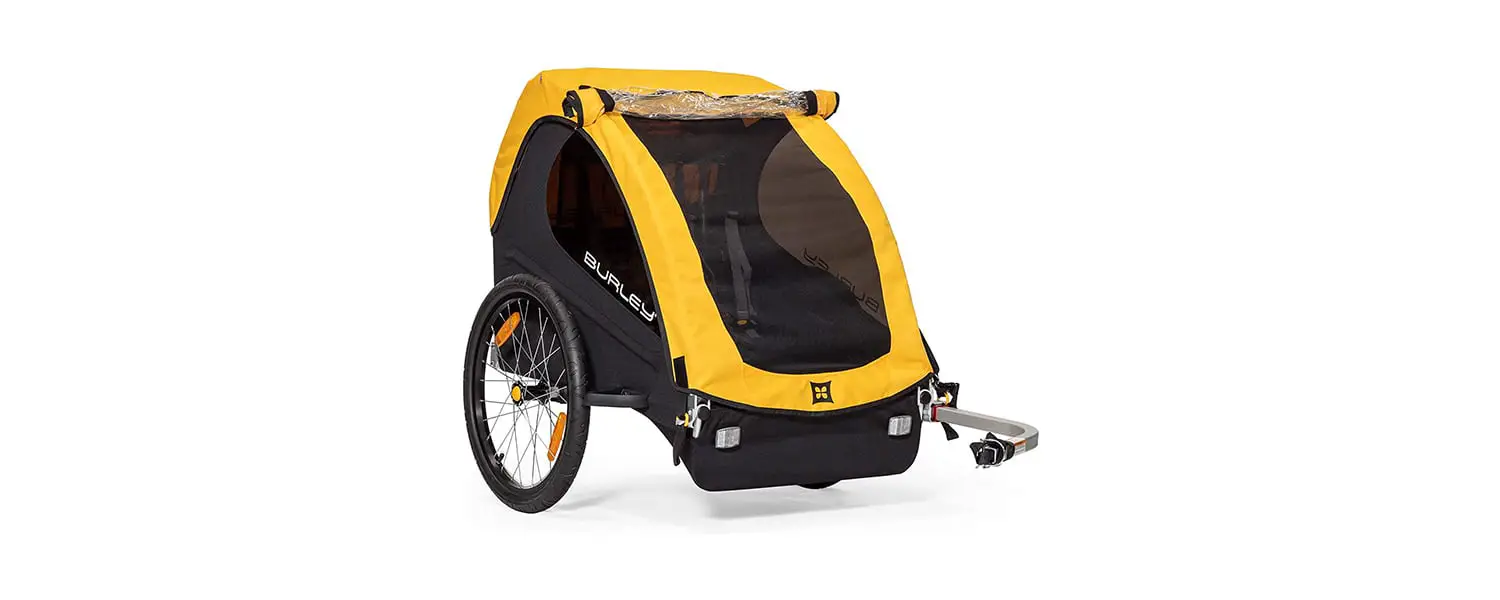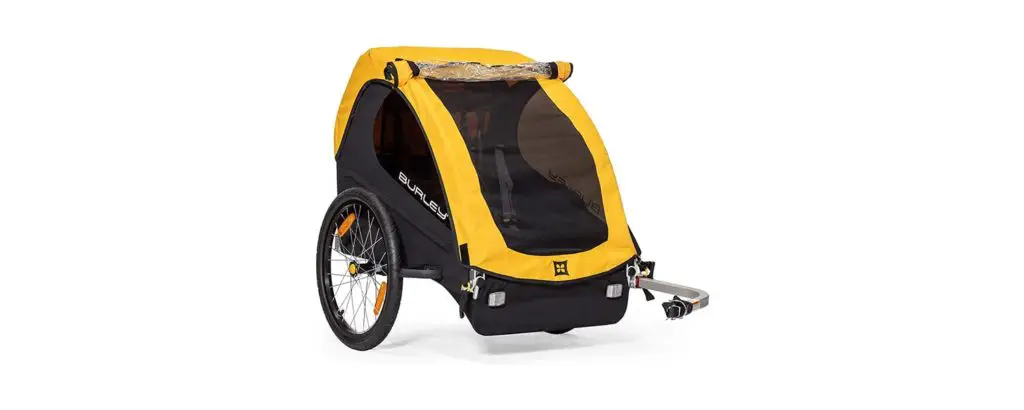 Bike Trailer for Dogs
Yes, you can also take your dog, cat, or other pets with you on your cycling adventure! Dog bike trailers are usually enclosed and come with hooks where you can attach the leash. These trailers don't have seats.  
Make sure you have a compatible attachment system
Not all bike trailers are the same. Bike trailers connect to your bike in different ways. Usually, they are mounted to the rear hub of your bike or to your bike's seat post. Make sure the trailer's attachment system is compatible with your bike before purchase. Most trailers are universally compatible but some can be tricky and may require certain adaptors.
Don't forget about storage
Another consideration that you should be aware of when buying bike trailers is storage. Most modern bike trailers pack down flat for easy transport or storage. These models also have quick-release wheels. Bike trailers with smaller wheels are also easier to store. As standard, most child bike trailers come with 20-inch wheels while cargo and doc trailers have 16-inch wheels.
Happy biking!